Laser crossliners
CL2D
Versatility and modernity, 1 plane vertically, 1 horizontally
High measurement precision, 1,0mm / 5m
Comfort of work, work with inclined plane, also with sensor
Safe use for years, reliable, proven design (IP54)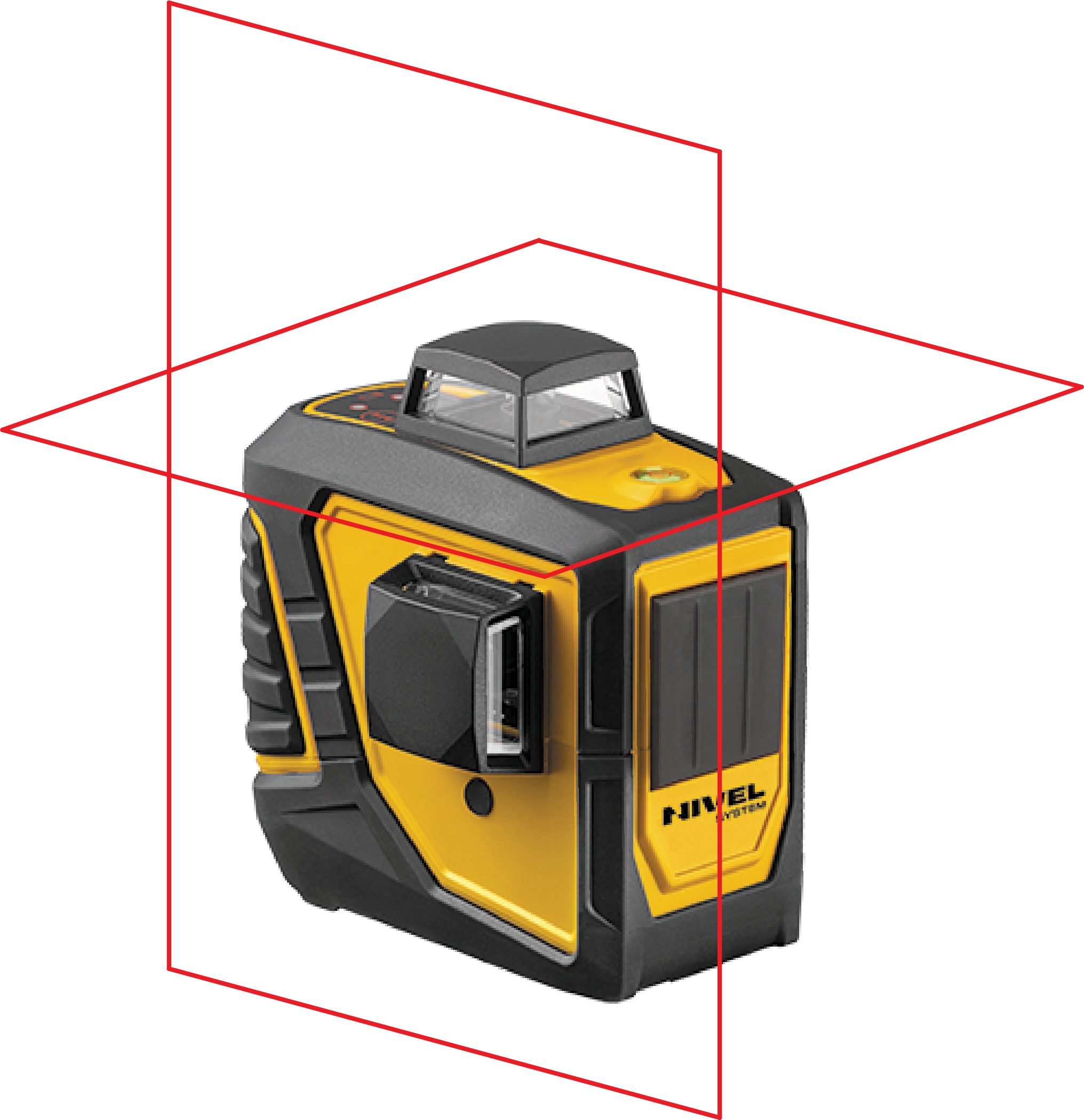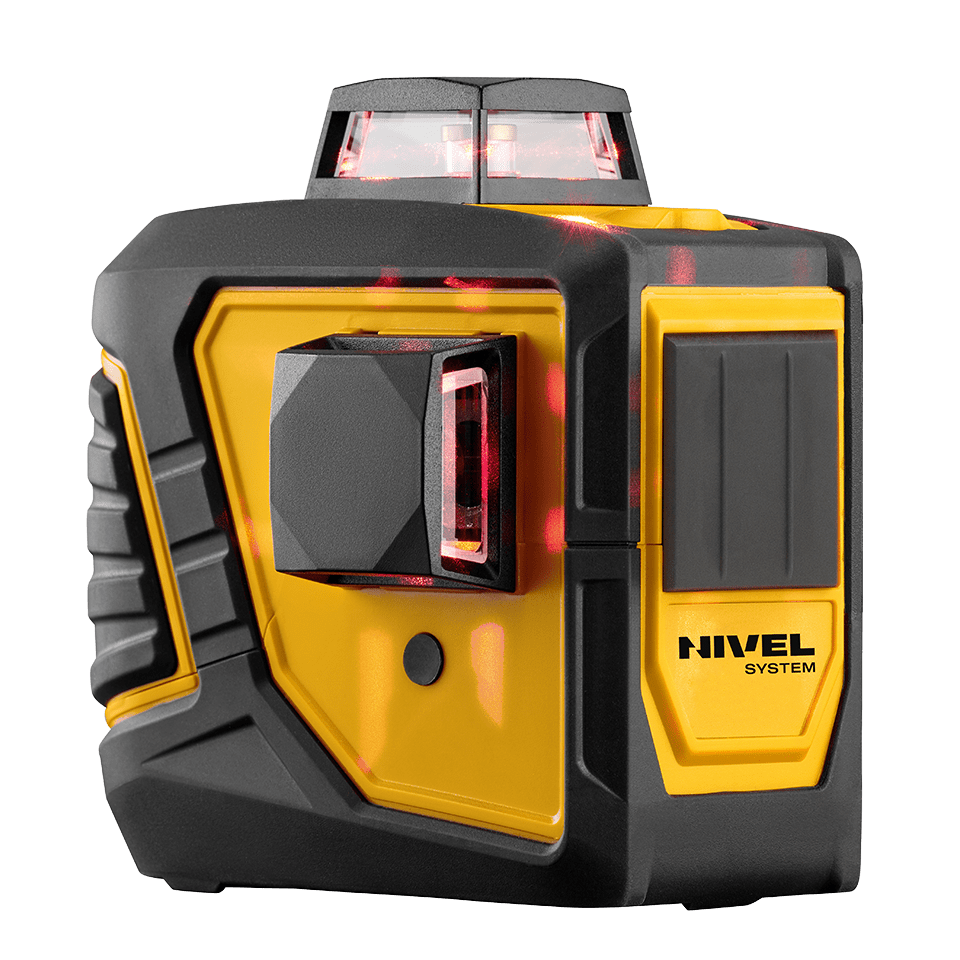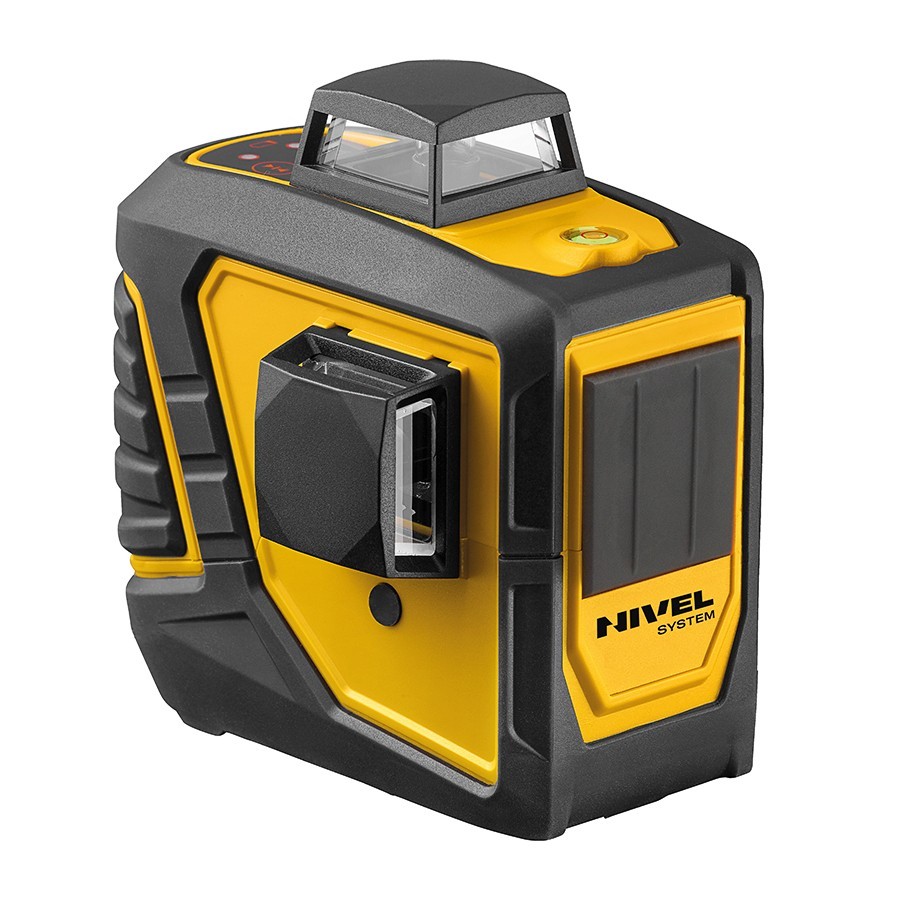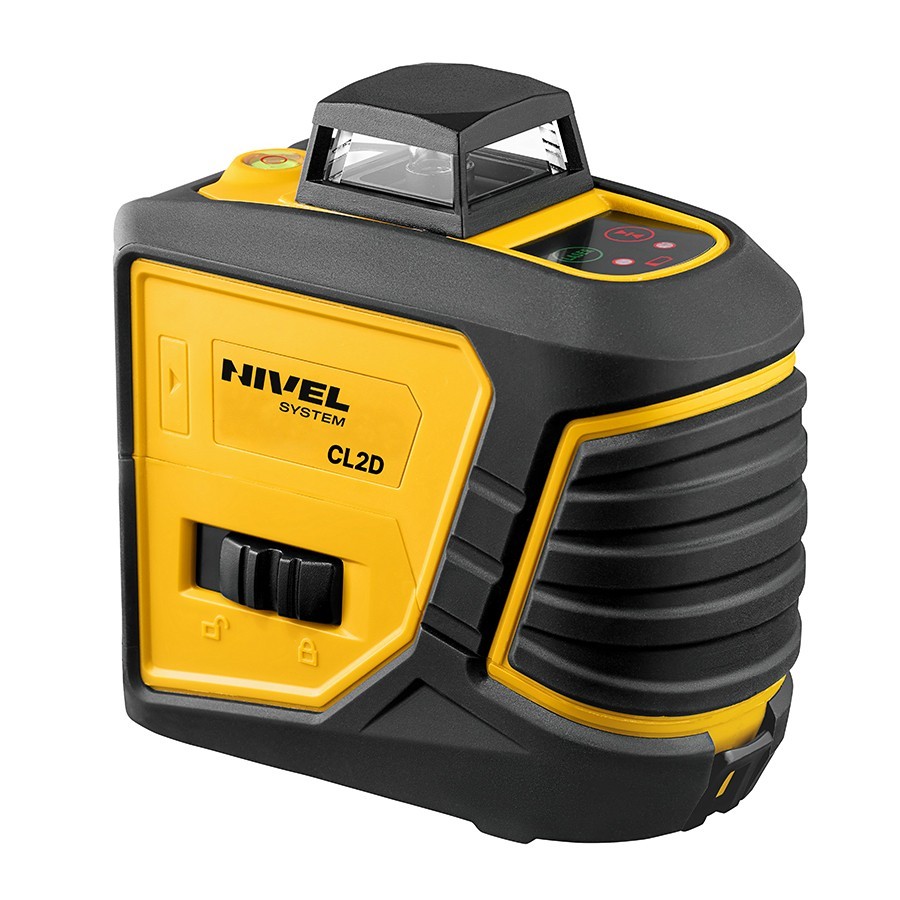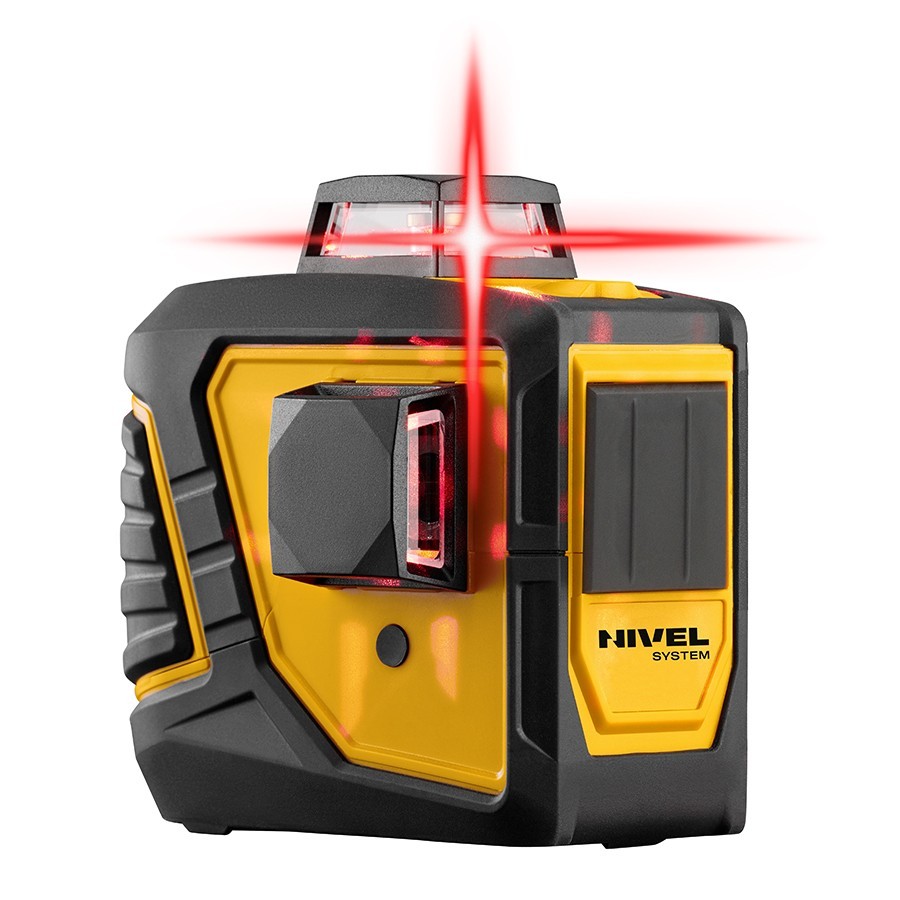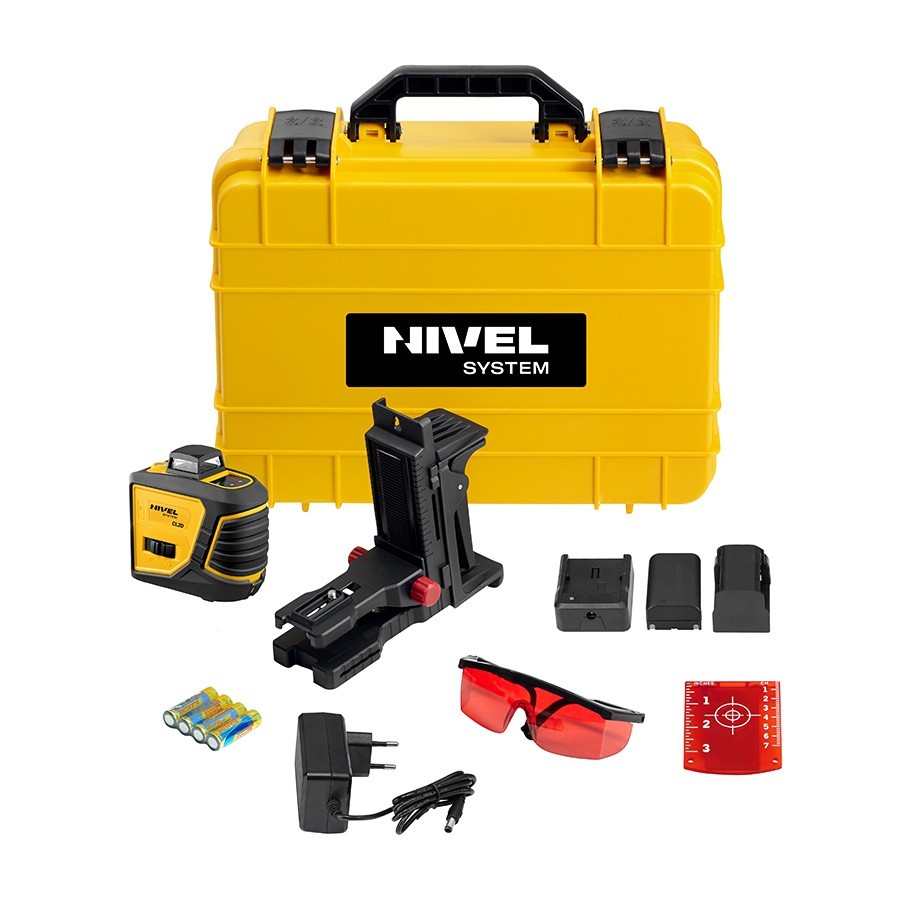 Nivel System CL2D
1 planes vertically, 1 horizontally, red beam
Multilaser Nivel System CL2D for multi-purpose 2D-360° cross laser. Equipment marked on the wall, perfectly leveled reference lines (horizontal and vertical), which support all finishing and general construction works. The laser has 2 laser heads, thanks to which the user can work with two laser plane – in the range of 360 ° each. The simultaneous display contains the configuration of right angles, which is available e.g. in construction and finishing works (e.g. tiling). Blocking the compensator means that the instrument can be tilted and use diagonal lines. Built-in 1/4 "and 5/8" threads include some and stable instrument mounting on a tripod, adapter or laser shelf. Reinforced rubber elements of the laser housing protect against damage as a result of impact and shocks.
accuracy and reliability – the clear beam of the red laser guarantees comfortable work in all conditions, the equipment enables work with an accuracy of ± 1 mm / 5 m
even greater range – the pulse function allows you to work with the laser sensor outdoors at large distances
precise beam display – bright, red laser beam and high-quality optics generate lines that are very clearly visible
versatility and multitasking – 2 laser plane (360° )
quick leveling – an innovative magnetic vibration copensation system ensures quick preparation of the device for work, the laser stably sets the beam, even on an unstable base, and after blocking it allows you to work with oblique beams
intuitive operation – easy and quick to use touch panel
laser adapter – secure attachment even in difficult conditions on the construction site, additionally adjustable at a given height
convenient power supply – Li-ion battery and alkaline battery tray included
resistant to damage and  durable equipment – rubber parts of the laser housing, protect it from damage due to shocks and shocks, equipment resistant to dust and water (IP54)
Applications
finishing works – vertical, horizontal as well as slants
laying down tiles and terracotta
plasterboard works
construction works – wooden, steel and concrete
masonry works – indoors and outdoors (foundations, walls, stairs, screeds and formwork)
installation works – marking the wire lines and the transferring points
carpentry – furniture
ground leveling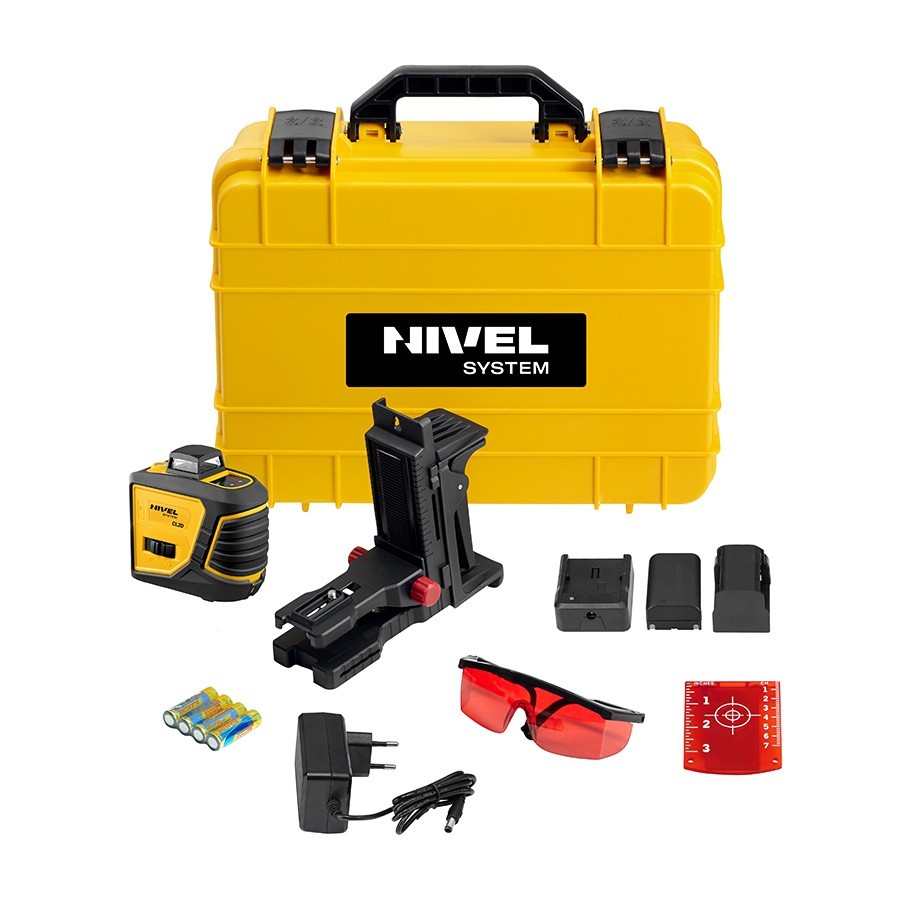 Includes
CL2D – laser crossliner – 1 szt.
TR-R – laser target – 1 szt.
GL-R – laser target – 1 szt.
CL-BR – multi-adapter – 1 szt.
Extra battery pack – 1 szt.
Aku 2600 – acumulator Li-ion – 1 szt.
CH-3 – charger – 1 szt.
CHS-3 – charger's slot – 1 szt.
Carry case – 1 szt.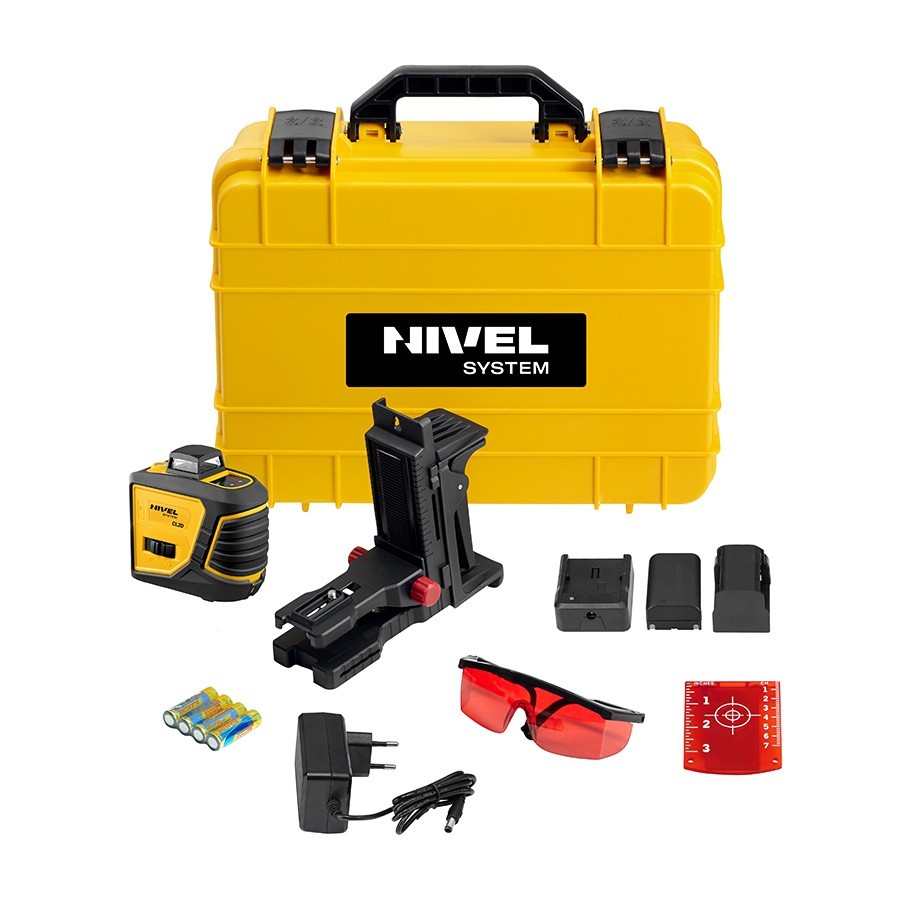 Specification
| | |
| --- | --- |
| Laser beam | red laser (635 nm), class 2 |
| Accuracy | ±2,0mm/10m |
| Range of operation | 60 m (140 m with a sensor) – diameter |
| The inclination of planes | Yes |
| Self-leveling range | ±3.5° |
| Beam display / planes | 1 x horizontal (360°), 1 x vertical (360°) |
| Power | Li-ion 7,4V (2600mAh), 4×1,5V (AA) |
| Resistance class | IP54 |
| Operating temperature range | -10°C to +50°C |
| Dimensions | 150 x 65 x 160 mm |
| Weight | 0.7kg |